Ohio State sophomore forward EJ Liddell announced on Wednesday that he would be putting his name into the 2021 NBA Draft while also maintaining his eligibility.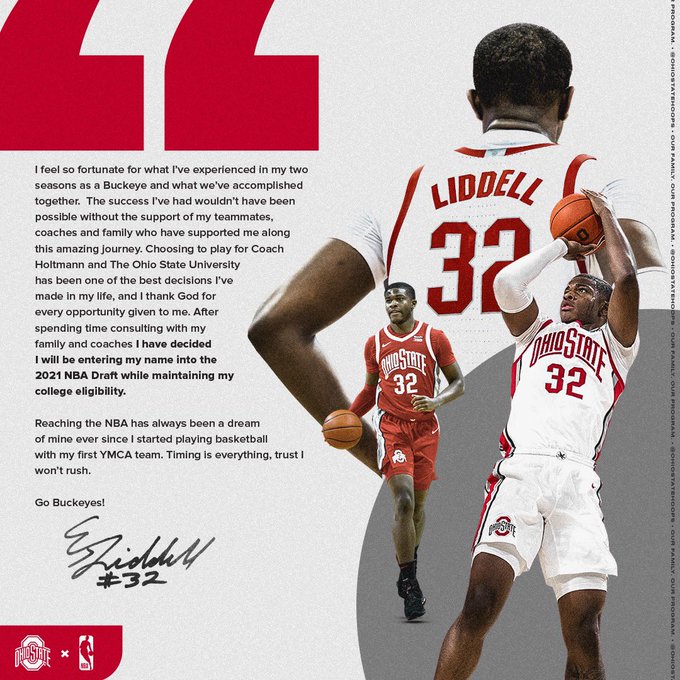 By doing this while also maintaining his eligibility, Liddell could come back to Ohio State should his draft prospects not be where he envisioned. This is also an opportunity to work out for NBA teams and receive feedback on what he needs to work on in order to improve his stock. This would similar to what former Buckeye center Kaleb Wesson did after his sophomore season.
Head coach Chris Holtmann said several times that Wesson testing the waters the first time and hearing the feedback made him work even harder and improve his game, which ultimately helped him achieve even more success at Ohio State. It's likely that the Buckeyes' head coach feels the same here with Liddell.
Liddell finished second on the team this year with 16.2 points per game, but led the Buckeyes with 6.7 rebounds per game. He started all 29 games this past season for Ohio State, scoring a career-high 26 points in a win on the road at Illinois back in January. He scored at least 20 points eight times this season, including 23 points on 10-of-15 shooting in the Buckeyes' first-round loss to Oral Roberts in the NCAA Tournament.
Liddell recently shared some of the terrible messages he received following that game.
The deadline to declare for the 2021 NBA Draft is Sunday May 30, while the deadline to withdraw from the draft is Monday, July 19 by 5:00 pm ET.